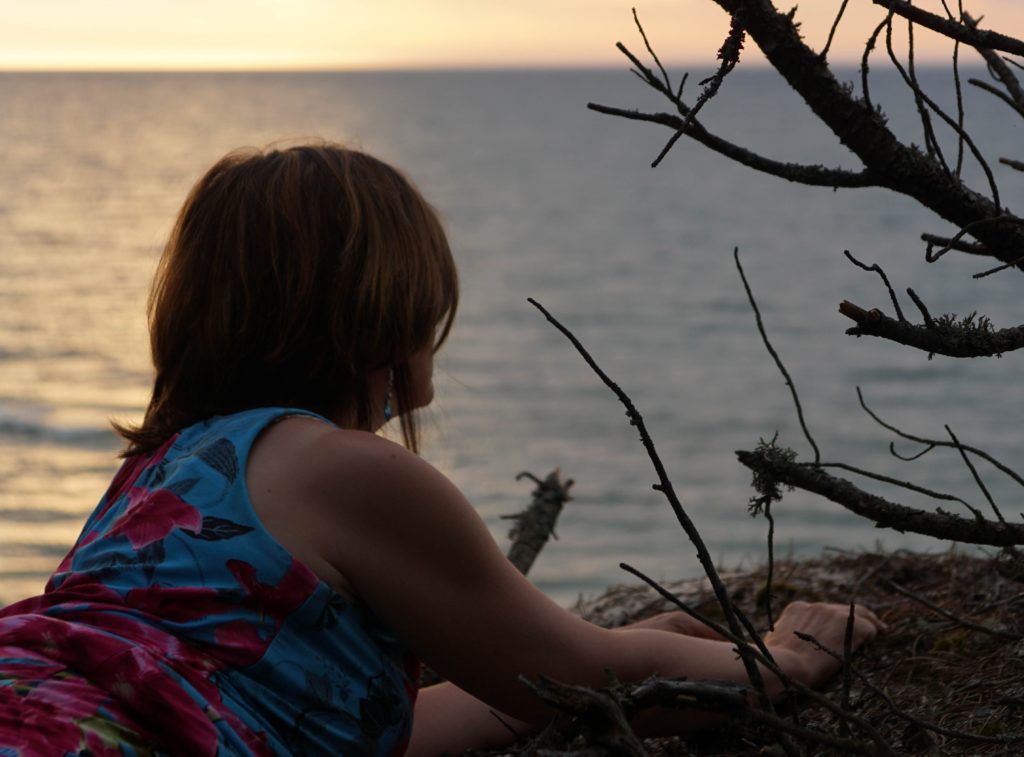 Nie wiem co mam myśleć wierzyłam kochałam, związane oczy miałam , nie widziałam naszych błędów…
Nie wiem jak mam iść pośród życia zakrętów. Trzymam się drogi wiary
Myślałam, że mam wszystko, kiedy miałam Ciebie,
myślałam, że nasza miłość przetrwa? Nikt tego nie wiedział … nie kochałeś mnie udowadniasz sobie że mnie kochasz inną masz w swych objęciach odeszłam…
Dokąd idę nie wiem zamknęłam się w ciszy medytacji harmonii ducha z ciałem… w harmonii piękna mej duszy i przyrody…
Zrobię krok i zniknę , żegnaj kochanie…
Co zrobisz wtedy? Myślę, że już nie zdążysz, nie zrobisz nic tchórzostwo brak odwagi…
Nie złapiesz mnie za rękę, bo boisz się pogrążyć
Jeszcze Cię pociągnę za sobą co wtedy
Wolisz się odwrócić? Nie widzieć? Nie wierzyć? zdradzać?
A potem zbudzisz się i spytasz gdzie jestem?
Nikt Ci nie odpowie, puste moje miejsce, nie wypełni je kochanka
Będziesz bez celu patrzyć na świat, do ciebie wróci to czym obdarzyłeś tych których kochałeś co ciebie …
To jest samotność, już nie będzie nas trzymających się za rękę…patrzących sobie w oczy bo nie powiesz prawdy…
Wszystko straciło sens, poczujesz pustkę, która ja czuję
Jakby zagubić wygraną w totka szóstkę
Będziesz rozważać, jak cofnąć czas, jak cieszyć się wspólnym spacerem
Lecz wehikuł czasu tylko w bajkach masz. pozostanie wspomnienie iluzja, drzewa tylko pamiętają tajemne wycieczki.
Myślałam, że mam wszystko, kiedy miałam Ciebie
Czy nasza miłość to iluzja ? Nikt wtedy tego nie wiedział .Wiem
spotkałeś kobietę, na weekend , życzę Ci najlepiej
Nam nie było dane żyć tylko dla siebie.
Nam nie było dane kochać się na zawsze
Nie dla nas wspólne losy i cele najdalsze.
dawałam ci szanse, czuwałam nad tobą ocierałam łzy z twych oczu, musisz mieć odwagę, porzucając miłość jak bukiet kwiatów zdeptanych przez ciebie w mym wazonie niema kwiatów od ciebie
Znamy się tak dobrze, damy sobie radę. Jetem silna
Teraz nie wycofuj się i daj z siebie wszystko , wiem że jesteś słaby to ja byłam twym skrzydłami by cie podnieść…
Żadne z nas nie może być pesymistą, bądź szczęśliwy
choć jak wiemy stąpasz kamienna ścieżka na przełęczy samobójców, oszukując siebie
Tędy pójdziesz tak mnie znajdziesz , spróbujesz zaryzykować
weź mnie za rękę,przeprowadzę cię zaryzykujemy.
W imię miłości trzeba ryzykować- warto zaryzykować …
pomimo naszych błędów
pośród życia zakrętów. czy odnajdziemy
miłość która przetrwa? . już nigdy.. pozostała miłość nad przepaścią… każdy poszedł swą drogą być może znajdziemy cząstkę siebie…