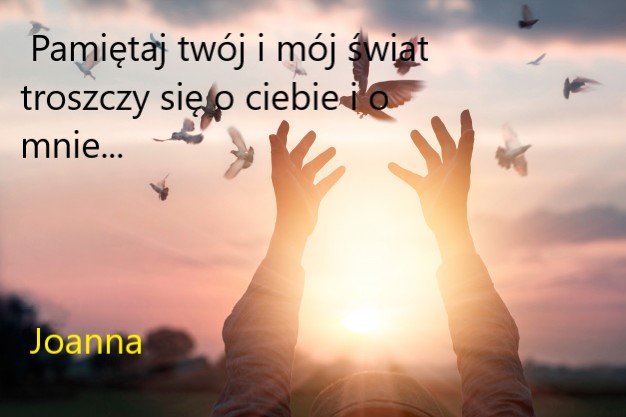 Większość z nas nie jest przyzwyczajona do łączenia modlitwy z codziennym życiem. Kochany, Kochana, znajdź równowagę w swoim Sercu i Umyśle, Ciele i Duszy, Pragnieniu i Woli, w Rzeczywistości, Dobrze i Źle, Moc i Pokój, Wstyd i poczucie własnej wartości, Przyszły czas i Teraz, Myśl i Cisza, ponieważ w równowadze będziesz znajdź spokój i cel. Zrozum, w swojej bezsilności znajdziesz swoje potrzeby, które z kolei są paliwem dla twojej woli. po cichu i powoli zaczynamy rozumieć, a nasze życie zaczyna sie zmieniać, wszystko staje sie inne. Wciąż słuchamy zaczynamy rozumieć co oznacza niech Twój Pokój, Miłość i Światło wibrują do najciemniejszych krańców wszechświata, aby ludzie objęci starą energią, kontrolowani przez strach i gniew, mogli znaleźć twoje światło, przemieniając swój ból w pokój i miłość.
Gdy słońce wstanie, nadejdzie światło i gdy zapadnie zmierzch, nadejdzie ciemność, więc postępujcie zgodnie z tym odpływem i przepływem taki jest rytm życia. W swojej ciemności świeć swoim światłem, abyś zobaczył drogę, wiedz, że twoje światło poprowadzi inne dusze, aby mogły iść swą drogą.
Piękna dusza mądrze posadzi nasiona myśli w ogrodzie twego serca, pielęgnuj je, hoduj je, daj im życie i wiedz, że to sztuka i wyraz duszy tego, kim naprawdę jesteś odzwierciedla sie w Tobie … Co siejesz to zbierasz, co dajesz to otrzymujesz, co wysyłasz wraca, co widzisz w innych widzisz w sobie…

Mało kto wie, że jesteś kochany, wartościowy , ważny, jesteś wystarczający, jesteś wszystkim, czym musisz być i więcej, wierz w swoją ścieżkę, swój cel i że wszechświat zawsze będzie miał dla ciebie coś lepszego wszechświat i pan przestworzy troszczy sie o Ciebie Z perspektywy czasu nauczy Cię tego. Namaste Joanna
https://skwarlinska-masaze.pl/my-dear-friend/.