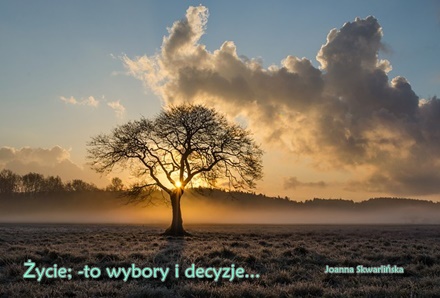 Pamiętaj przyjacielu, że to Ty masz wybór.
W tym, co widzisz.co czujesz co zrobisz…
Jeśli zdecydujesz dostrzegać tylko zło, zagłuszając wszelkie nadzieje i marzenia, że nie ma sensu walczyć.
Wzmacniasz tylko swoją potęgę świadomości – wkraczasz w ciemności. W twoim życiu panuje ciemność zewnątrz i wewnątrz, brakuje radości i chęci do życia… Mówisz wtedy nie potrzebuje Boga bo me życie straciło sens … to rodzi lęk depresje … przeszłam to doświadczenie. Na mej łodzi życia zabrakło sternika – może zasnął… burze, przeciwności to jak błyskawice oberwanie chmury bezsilność. W czasie powodzi- myśli i uczuć, doświadczeń – samotności, choroby – czasem brzmi jak wyrok rozbitek uczuć, bezradność, beznadziei, A tu;- decyzja kolejny krok …jak ślepiec szukający drogi, jak rozbitek szukający deski ratunku, jak bezdomny, bez rodziny, bliskich… każdy z nas podobnie doświadcza , szuka drogi wyjścia… Przestań próbować się wyleczyć, napraw się, a nawet obudź się. Puść wolno odpuszczanie… nie warto ścigać przyszłość, która nigdy nie nadchodzi.
Zamiast tego pokłoń się głęboko w głębi duszy, tak jak w rzeczywistości. By Być tutaj. Uhonoruj tę obecną scenę w filmie tu i teraz. Twój ból, twój smutek, twoje wątpliwości, twoje najgłębsze pragnienia, twoje straszne myśli, nie są błędami i nie proszą o uzdrowienie. Były potrzebne są cząstką ciebie…
Puść wolno tu i teraz …Tutaj, teraz, lekko,wtul się w kochających ramionach obecnej świadomości poczuj wolność i lekkość pokochaj siebie.
Uwierz;- że jesteś Wspaniały❤ 😊Wspaniała❤ 😊
Dzielny❤ 😊–Dzielna ❤ 😊
Wytrwały❤😊–Wytrwała ❤ 😊
.
Jeśli Chcesz spełnić swoje marzenia?
Wielkie osiągnięcia potrzebują odważnego działania – twojej decyzji. Jeśli chcesz odważnie działać? musisz być pewny siebie…Spójrz w niebo i odkryj, jak mądrze wykorzystać swoją energię. Materia umysłu, woli, świadomości…co myślisz tym jesteś… zacznij odnowa zacznij jeszcze raz warto… Namaste